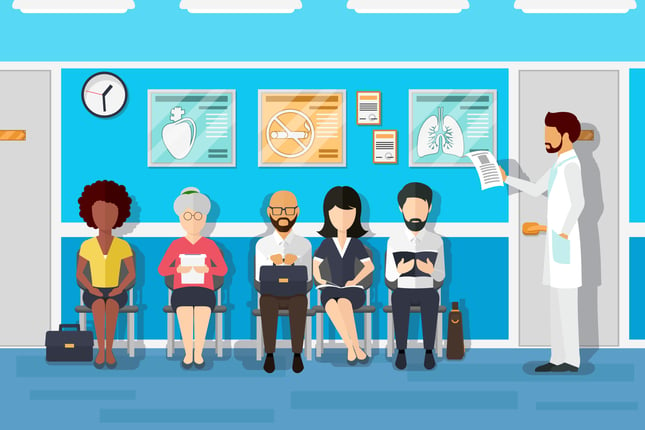 As a facility manager, it isn't unusual to overestimate the effectiveness of our office cleaning services. Maybe our medical office cleaning service started strong but we have noticed that service has slipped below an acceptable level of clean. Or perhaps we just get so used to the state of our building that we stop 'seeing' some of the things other people may. Maybe we have simply become so inundated with other issues that we don't feel like we even have the time to consider new medical cleaning services. The reality is that less than adequate medical cleaning will have a host of negative consequences for your facility. If your medical cleaning is slipping, it might be time to consider your options.
Medical cleaning From Your Patient's Perspective
Remember secret shoppers, those people used by market research companies, watchdog organizations, or even by companies themselves to measure the overall customer experience, quality of service, compliance with regulations and more? The secret shopper would experience the shopping environment in much the same ways a customer would and then offer detailed feedback about their experiences. What would a secret shopper, or 'secret patient' have to say about your facility?
On a recent visit to a doctor's office, I made an effort to really take note of my surroundings and what I can say is a number of health care facilities out there should be glad people are glued to their phones because when I looked around, much of what I saw wasn't so great. Making my way into the facility, a mid sized clinic of mostly specialists, I noticed there was some debris and trash stuck in and around the bushes on the parking lot. It was a windy day but it looked as if the rubbish had been there some time.
As I made my way in to the facility I noted that the heavy glass entryway doors were greasy with prints and smudges. It was afternoon so I'm sure there had been many people in and out of the building by this point but it being cold and flu season and a medical facility, it did make me feel a bit hesitant about what germs likely covered the door handles. How many people with colds, flus and worse had come in touching those same handles? I know they can't be cleaned between each individual but seeing the dirty glass doors definitely made me more conscious of the risk.
The walk to get to my physician's suite was acceptable, carpets looked pretty clean and the overall condition of the walls, baseboards, pictures and lights looked good. I stopped at the office restrooms before my appointment. In a medical facility, I certainly have the expectation of clean restrooms but these were not as well cared for as I would have hoped. I wouldn't compare them to a port-o-potty or stadium restroom but for a healthcare facility and high-end office building, they needed to be better maintained. There was water pooling up around the sink, the mirrors were wet and spotted. Trash and used paper towels had started collecting around a trash can. The baseboards were dusty and the drain had some mop string stuck in it. The stalls appeared clean and it could be because they were a dark color but it was still noticeable that this space needed more in the way of restroom cleaning.
Once in my doctor's office I noticed that most of the reception area looked good with the exception of the decorative plants being very dusty. After being checked in I was escorted to an exam room. As I waited I took in my surroundings. There was a dark splotch on a cabinet though it was hard to tell how long it had been there. The vinyl baseboards were dusty, scuffed and in need of some attention. The sink had a good deal of mineral build up around the fixtures that probably could have been removed with a good cleaning. The reality is that patients are often kept waiting and they sit and look around and see things we might not notice and we move quickly through our facilities getting work done.
Medical Cleaning Services Matter More Than You Might Think
Medical office cleaning is a vital piece of managing your healthcare facilities. A medical facility is looked at far differently than a retail facility or even a basic office building. People are receiving care and their expectations of cleanliness and order are simply different. Medical cleaning companies must be cognizant of how important their contribution is to your patient's overall sense of care and your reputation. If you have a medical cleaning company cleaning your facility below an acceptable level, not only can it chip away at your bottom line, it can actually make people sick. Not to mention that patient satisfaction and even employee satisfaction and retention will suffer.
Don't Risk Low HCAHPS Scores or Your Valuable Reputation
Problematically, negative experiences are far from unique. A look at HCAHPS surveys demonstrates how many patients are finding the cleanliness of their healthcare facility lacking at best, negligent at worst. Janitorial services that don't measure up lead to patients and their families wondering about the overall quality of the care they receive at your facility. With something as important as their lives and their health, you cannot give patients or their families extra reasons to worry.
A Professional Health Care Facility Requires A Professional Commercial Cleaning Company  
Do you have a truly professional commercial cleaning company? Do they understand the unique requirements of medical cleaning? Do they have an understanding of the compliance issues you are bound by? Do they have the systems and processes to get you the most value for your cleaning budget? If not, it could be that your professional cleaning company isn't so professional after all. Maybe it is inexperience or maybe inattention but either way, your patients and practitioners all deserve to work in a medical facility that is clean and well maintained.
Find the Right Prescription For Your Facility 
Just because a company wants your business doesn't mean they are worthy of it. Certainly a cleaning company can tell you they are great but the best janitorial companies must be willing to back up their claims with visible systems and processes, verifiable references, documented training and more. When you mention HIPPA and blood-borne pathogens do you get an blank stare? This can be a pretty significant indication that they are not making your business their business. Much like doctors have board certification to indicate specialized knowledge and added training, medical office cleaning services have similar. Within the janitorial, maintenance and cleaning industry, there is CIMS certification. CIMS certification can be a valuable tool for any Facility Manager looking for quality medical cleaning services in Michigan. CIMS certification is an extremely challenging process that requires medical office cleaning companies to demonstrate proficiencies in a variety of areas that directly impact your facility. CIMS certification is a great indicator that you are dealing with a committed professional commercial cleaning dedicated to delivering the level of service and value you would expect from any true professional.