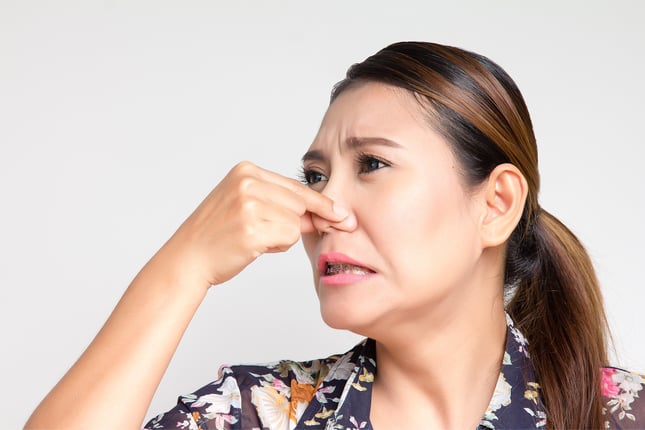 Do You Have A Stinky Situation On Your Hands?
Have your office restrooms become a decidedly stinky situation? Certainly there is an expected odor associated with restrooms, it is after all, the place where some smelly stuff can happen. However, the lingering odors in restrooms can point to issues with your commercial restroom cleaning. Smells that stay, odors that seem to hang in the air can point to dirty restrooms and insufficient restroom cleaning. Even though restrooms can have odors, in clean, well ventilated restrooms, these smells shouldn't stick around. If you are smelling noticeably funky odors, urine is typically the primary offender. Urine helps flush water and salt from our bodies and some of the compounds present in urine, including nitrogen, chlorides, proteins and urea can leave behind unpleasant odors when permitted to evaporate, collect and concentrate around urinals, toilets, grout, drains and other areas around your office restrooms. And while these compounds themselves can be noxious, they also provide the perfect meal for numerous bacteria that 
themselves
 produce stinky smells.
Why Is Restroom Odor Such a Common Problem?
The problem of 
restroom cleaning
 and lingering odor is an issue for many Facility Managers. In reality, keeping restrooms looking and smelling their best continues to top the list of maintenance pain points. Stinky smells can plague facilities for a variety of reasons. Maybe your janitorial services company is failing to do the deep, detailed restroom cleaning they need to in order to leave your restrooms looking clean and smelling fresh. Maybe your office restroom venting is inadequate or requires servicing. Or it could be that you have a level of density within your building that requires more than a nightly cleaning. Offensive odors are a problem even if your restrooms look clean because bad smells register as a strong negative reaction and cast your overall maintenance and your facility in a poor light.
Smelly, Dirty Restrooms Reflect Badly On Your Whole Facility
Any restroom that is used regularly is going to become dirty, but if your restroom cleaning service isn't keeping up with the job and your restrooms are smelly and dirty, it reflects poorly on your overall maintenance. Office restrooms have a disproportionate affect on the perception of your facility. 
Dirty restrooms
 give the impression of mediocrity, lowered standards and apathy. When office restrooms look dirty and smell unpleasant, visitors and employees in your facility notice and it makes them aware of other areas your cleaning is less than optimal. Bad smells, mystery puddles, overflowing trash and more give people in your facility a strong negative reaction. Don't let less than clean and fresh office restrooms create doubt about the overall health and cleanliness of your facility.
A Quick Mop & Wipe Down Won't Eliminate Odor
Commercial restroom cleaning cannot just be about a once over with a mop and a little Windex. That might be okay in your home to quick spruce things up before company comes over but office restrooms simply see too much traffic. Many offices can get by with a nightly restroom cleaning, especially if their janitorial services company does a daily, thorough clean. But more heavily used restrooms might require a daytime cleaning as well, emptying trashes, restocking supplies and giving everything a once over. If you think nightly cleaning might not be enough for your busy facility restrooms, you might consider the services of a 
Day Porter
. But if your daily cleaning includes little more than a quick spray down and a little mopping, you aren't likely to see the clean restroom and fresh clean smell you are looking for. The compounds related to smelly restrooms aren't easily removed with a quick mop. Worse yet, many commercial restroom cleaning companies reuse mop heads that have not been properly changed or cleaned meaning these smelly compounds just get moved around throughout your facility. It takes real cleaning and measures to prevent against 
cross contamination
 to really make your facility shine.
A Restroom Cleaning Checklist Can Help Solve Your Putrid Problem
When it comes to quality control in restroom cleaning, a restroom cleaning checklist can be a valuable tool. A 
restroom cleaning checklist
 can be a useful way to understand the level of work required to keep your restrooms clean and smelling fresh. While thorough daily cleaning is essential, the big solution to dirty, 
smelly restrooms
 is periodic deep cleaning. What kind of tasks or checklist items assure your restroom cleaning service is hitting all of the important marks?
Cleaning must be done first and then disinfecting surfaces using the proper dwell times to assure disease causing germs and bacteria are eradicated.
Careful cleaning of "hot spots," "high contact" and "touch points" to diminish the spread of disease causing germs.
Mirrors should be clean and shiny.
Using industry best practices-- chemicals, agitation and extraction to insure walls, floors, toilets, urinals, sinks, mirrors and fixtures are scrubbed and deep cleaned.
There should be no overwhelming 'toilet' odor and the overall smell should be clean and fresh.
Toilet and toilet seats must be cleaned, disinfected and wiped dry.
Urinal handles need to be cleaned, disinfected, wiped dry with urinal screens cleaned and blocks replaced.
Feminine hygiene dispensers should be cleaned, disinfected and restocked with new liners put in place as needed.
Frequent restocking of must have supplies like toilet paper, hand soap and paper towels.
Regularly emptying trash & sanitary disposal containers BEFORE they are full.
Routine inspecting fixtures like dryers, paper dispensers and more to insure sure they are in working order.
Cleaning floors and counters to eliminate splashes, water and keep surfaces looking good.
Systematically cleaning around and behind toilets and other hard-to-reach yet essential areas to help eradicate odors.
Maintaining restroom partitions so they are free of the three G's—grime, gum and graffiti.
When cleaning restrooms, floor drains and grout must be clean.
Regular dusting or vacuuming of air vents.
Check that all light bulbs are functioning.
Attention to detail including clean corners, ceilings and base boards.
Making sure regular deep cleaning is done to eliminate long term issues piling up and protect your building's assets
Great janitorial services use state of the art cleaning equipment to do the best job for the best price.
Restroom cleaning cloths, towel and mops should not be used outside of the restroom.
A visual inspection should be done upon completion and any areas requiring future maintenance should be noted.
The supplies and equipment closet should be clean, organized and well stocked.
Equipment should be properly maintained, repaired and replaced as needed.
The Importance of Cleaning For Health In Office Restrooms
Smell can be a sign that your restroom cleaning company is not adequately cleaning but also a sign that they might not be 
cleaning for health
. Cleaning enzymes and chemical disinfectants not only combat urine compounds and odors, they are proven to work well for combating viruses, bacteria and other disease causing germs. But in order to be effective, they must be used properly and according to the manufacturer's recommendations. That means dwell times for certain cleaning products, dwell times are the amount of minutes a wet product must cling to a surface before being wiped away in order to effectively destroy germs. If recommended dwell times are not followed, the removal of the bacteria, and hence the smell, is less effective. Preferably, your restroom cleaning service can spray areas and let the disinfectant remain for the recommended dwell time while they tend to other tasks like restocking supplies, cleaning mirrors and removing trash. Similarly, your restroom cleaning services should be certain they target porous, hard to reach areas like grout lines and corners to keep the space clean and fresh longer. Cleaning for health not only keeps your office restrooms smelling better, it keeps employees and visitors to your facility healthier.
Finding A Restroom Sanitation Service Prepared to Tackle Your Office Restrooms
Finding the right office restroom cleaning services company can make a world of difference with your restroom cleaning. Don't risk your reputation or your bottom line with smelly office restrooms and restroom cleaning that just plain stinks. Don't continue to work with commercial cleaning services that are either unable or unwilling to deliver professional, quality, effective service without leaving your restrooms in a stinky state. At Stathakis, we have over thirty years of experience delivering the best in facility maintenance and restroom cleaning for the businesses of southeastern Michigan. If you are a Facility Manager in Ann Arbor, Detroit, Royal Oak, Farmington Hills, Farmington, Dearborn, Livonia, Troy, Auburn Hills, Novi, Plymouth, Downriver or surrounding areas, please contact us at 1-800-278-1884 to learn more about how we can help you maintain clean restrooms, keep your restrooms smelling fresh and get more of what matters most to you.